CNC Turning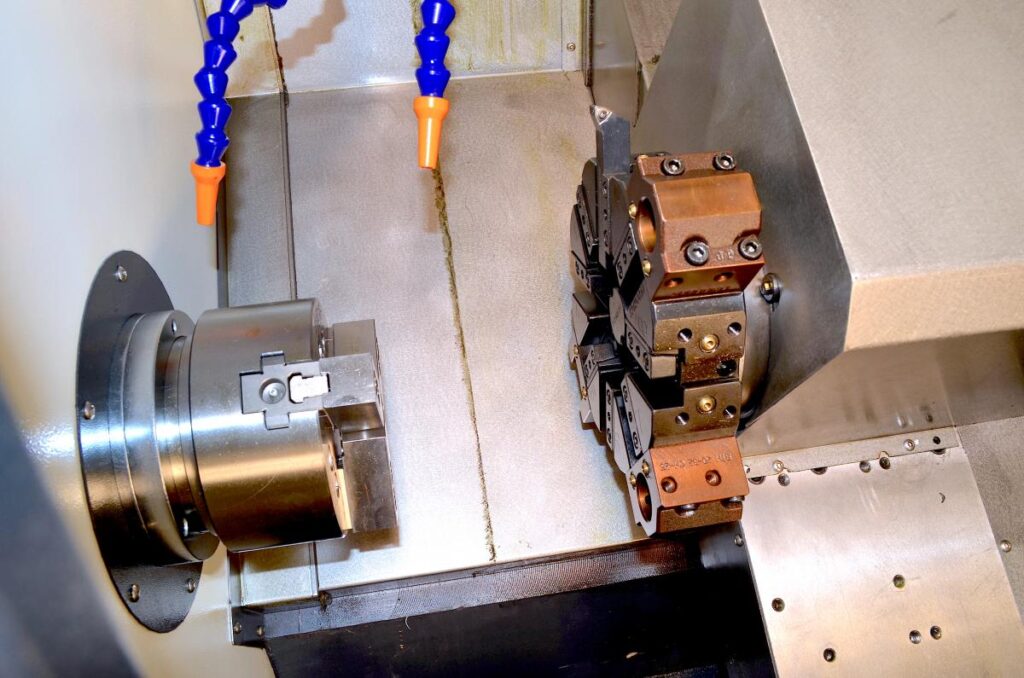 The use of technology is really advanced these days, with every passing day you will never tell what technology will bring. The only thing that we can do is sit back and expect more from the same. The good thing about technology is that it is changing things for the better. More accuracy and efficiency are just but some of the benefits of using computers and technology. One of the areas where technology and the use of the machine have left a big mark is in industries. Long ago, things used to work manually in industries. This even though the only option at that time was not very ideal for production and manufacturing purposes.
There were increased mistakes and reduced efficiency working on projects in industries. If you had a project that you were working on then it would take you a long time to work on it and complete and this is without considering the aspect of mistakes. Given that humans get tired while others get sick it was hard to promise a client a project on time. Most people ended up disappointing their clients something that resulted in reduced business. However, with the introduction of automation machines, things have changed for the better.
Machines have brought in a huge deal of efficiency and accuracy enhancing production. With machines, it is now possible to deliver projects well on time and do so accurately. One type of computerized machining process is CNC machining which is widely used in industries across the world.
This process in particular has made the metal manufacturing process much easier and efficient. Compared to the conventional machining process, CNC machining is by far a better option. This type of machining comes in various categories and is widely used in industries for metal fabrication procedures. Due to its efficiency, the process is now being adopted by almost all companies that carry out metal fabrication procedures. From CNC milling to CNC turning, the process is widely adopted and sure enough, it is paying off well.
Efficiency and accuracy are just but some of the benefits enjoyed by the people who opt to use machining over conventional machining.
As we said, we have so many types of CNC machining but today we are only going to dwell on CNC Turning. We are going to look at this process in detail and see what gives it an edge over the other machining processes.
CNC Turning
This is a manufacturing process in which material bars are held in a chunk and later on rotated. During this time, we have a tool that is fed to the pieces to remove the material in order to create the desired shape. To make this possible a turret together with the attached tooling is programmed so as to move the bar of raw materials and later on remove the material so as to end up with the intended result.
The process is also known as subtraction machining since it involves the removal of materials. The process is very effective and always creates the best results.
If you do metal fabrication there are so many reasons why you need to start using CNC Turning, we are going to look at these reasons and see why you need to consider this manufacturing process.
Removal of human intervention
One of the things that you will never tell is whether your hired people will get you the results you need once you contract them. The case is still the same when it comes to the turning process. Sometimes you have to be there physically to make sure that these people are doing the right thing.
Errors during this process might as well come in costly something that many people would like to avoid using all means. These factors make humans somehow unreliable when it comes to the turning process. With the CNC turning process, things are a bit different.
With the help of the CNC console, it means manufacturers can now do without the human intervention and still get the best results. If you have been having issues with the human intervention then it is time you changed that by shifting to CNC turning.
As a person who is in production then results in a matter most to you, should you fail to get the best results then that will badly affect your business. In the worst cases, you will begin to lose clients due to the production of poor results. With the use of the human machining process then this is more likely to happen especially if you are using the less skilled manpower.
Once in a while or frequently you will find the people you contract this process for you making mistakes. Some of these mistakes might end up costing you so much if you are not so careful. This is why you need to resort to the use of CNC machines for turning procedures.
This is the only way you are assured of getting the best results and high-quality results. Manufacturers who use this procedure attest to the fact that it is one of the best ways you can use to get quality results that you need. As far as quality results are concerned, CNC turning is the way for you to go.
One of the things that determine the progress you make in manufacturing is how fast you carry out your operations. If you are slow in your operations then you will probably fail to realize the progress you desire at the right place.
When you use humans or manpower in the process of milling then you are never sure they are going to carry out this process fast. In some cases, they may delay in some areas resulting in time taxing. If you have some projects that you need to deliver within the shortest period of time then people might let you down in some cases.
This is why you need to start using CNC turning. These machines will never let you down once you employ them. Given that their operations are programmed, they do not waste any time in any incident. Once you turn on these machines, they will keep working for as long you need.
If you have a project that you need to deliver within the shortest period of time these machines will make this possible. Given these capabilities, it means you will not waste any time in delivering your project like it is the case when you use people for the same purposes.
In fact, you can even push these machines to the limits something that might not be possible with humans. If you value time then you need to turn to CNC Turning and you will find this process time-efficient.
Safety is paramount in any industrial operation. Without it then you will probably not do any business. If you consistently breach the safety regulations then you might end up having your license revoked. As a business person, you would not like to have an incident where one of your workers suffers any injuries while in line of duty.
Even though many people would not like to have this happening, it does happen in some cases something that is regrettable. Human error among other things is what has led to these mistakes happening which in turn led to people suffering different injuries.
When you use CNC turning it means there is reduced people working and improved accuracy. This leaves very little or in some cases no room for errors which might result in some injuries in people.  In fact, one of the main features of CNC Turning is improved safety.
Once you start using these machines then you will have very little safety concerns to worry about. This way, you will work more easily without having to worry about anything.
If you are not yet using CNC turning then you are missing a lot. The factors listed above are some of the benefits you stand to gain when you use CNC turning machines. If you are not yet sure of where to get these machines you can head to Contract Manufacturing Specialists of Ohio, they have the very best of these machines.
We service multiple cities throughout the state of Ohio. We provide all the services listed above, and much more in every city throughout Ohio.
If you don't see your city listed or a specific service listed, don't worry. All you have to do is contact us by either giving us a call or filling out our online contact form. Then we'll discover what are some of the top solutions for you, your business, and executing a solid solution.
See our city areas of service: